A short story about Tartaruga's beginning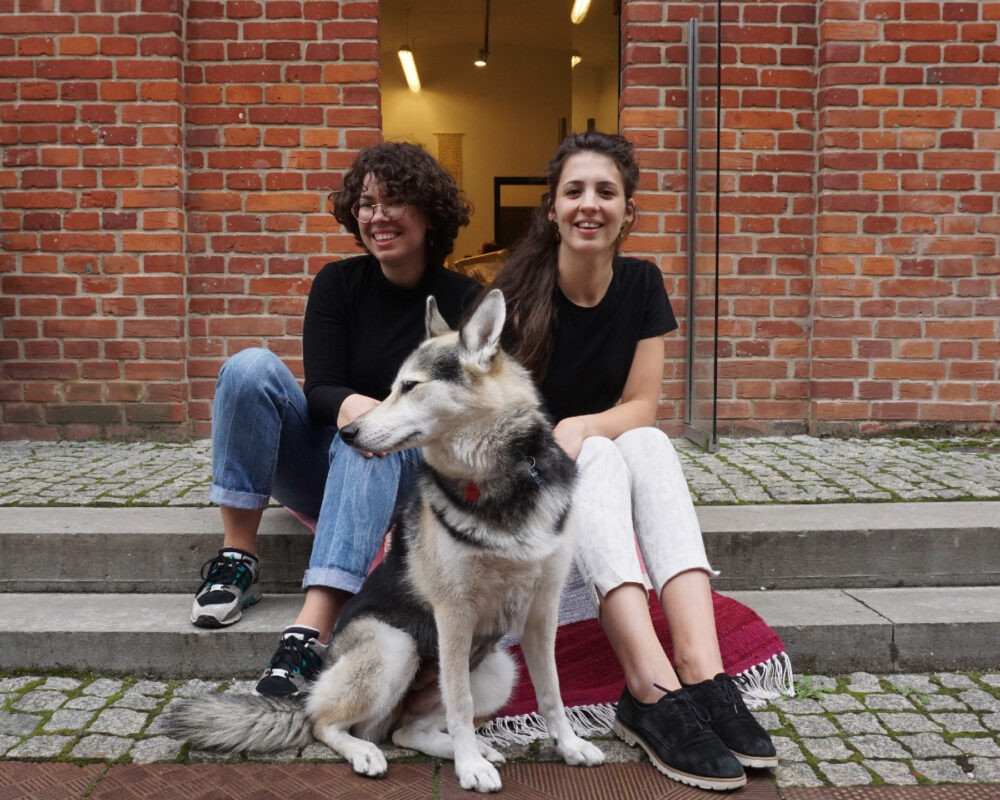 A long time ago in a galaxy far, far away and before Tartaruga was founded, few things important for us happend. Without them we couldn't even imagine that one can run a small, independent weaving studio and work as a designer and maker. So we decided, that the first post on our blog will tell Tartaruga's story from the very beginning.
It probably started when we accidentaly moved to the city Łódź to study on Technical Univeristy of Łódź. Why accidentaly? Because none of us wanted to study textile design. Wiktoria wanted to go to the Film School to study Animated Films. It's quite funny, because the only thing she get there was a husband. I wanted to be an architect these days, but I changed my mind at the last minute. I realized that I don't want to design great forms, I'd rather prefered chairs and ceramics than bridges. And thus we both started studying Design and during the second year we chose the Architectural Textile Design specialization (we still love that name because it's like we were architects somehow). So for the next four years we've dealt with everything what is connected to the industrial design of fabrics, knitwear, or even yarns and medical textiles. We had a lot of paintng and composition classes but also a lot of chemistry, physics or textile technologies.
Very soon we discovered that we're on the same wavelenght and we became best friends quickly.  We had a lot of group projects at the University so naturally we were working on the most of them together. Maybe on the second or third year I've just got a weaving bug! I've seen all those Pinterest and Instagram beautiful photos of hand woven art. And I wanted to learn it too. In that moment we were taking a lot of inspiration and vibes from each other, so soon also Wiktoria searched for tips and advices how to weave properly. Technically we knew how to make it because we had some basics from our studies, but still we didn't have any experience in handicraft. We didn't have any hand weaving classes at University but we knew that some of our professors are even world-famous weaving artists. In the end we were lucky that we didn't need to search far!
I was taking my first weaving steps in the Dorota Taranek and Zygmunt Łukasiewicz's studio. I made my first woven sample there and I still keep it as a souvenir at my home now. Then I started to work on a large carpet and it took me few months to weave it. In the meantime we both made experiments with smaller forms. We've tested hundreds of weaves, materials and shapes. We learnt from each other, we tried to weave clothes, rugs, wall hangings, bags and other artistic forms. There was always a lot of dust and yarn ends in our surrounding and our flats were just like a weaver's warehouses with all those weaving frames and yarns.
Later, during our master studies we both were learning kilim weaving from our master – professor Włodzimierz Cygan. We still didn't a hand weaving classes but we tried our best to pass our other design classes by weaving. Professor Cygan was the person that showed us the subtleties and severe beauty of the weaving craft. In that time we felt in love with a kilim technique. It's a traditional, very simple and primitive technique that requires a continious improving of weaver's skills. And that was the thing we loved the most. We patiently learnt to hide yarn ends, to weave perfect circles, to make slight tonal transitions and to weave our favourite vertical stripes. We made kilims and carpets a thema od our master thesis; it was an occasion to know a little bit more about old traditional designs, materials and techniques. And we still love to read and to collect all the books conected to weaving and kilims.
During our fourth year we started to think about our future, our dreamt jobs etc. We didn't have any specific plans and hoped to get a job as a textile designer after studies. Sometimes we were fooling around and imagine that we have our own business but the idea wasn't precised yet. We knew that we couldn't work in a big corporation or far abroad and we knew that we love to weave.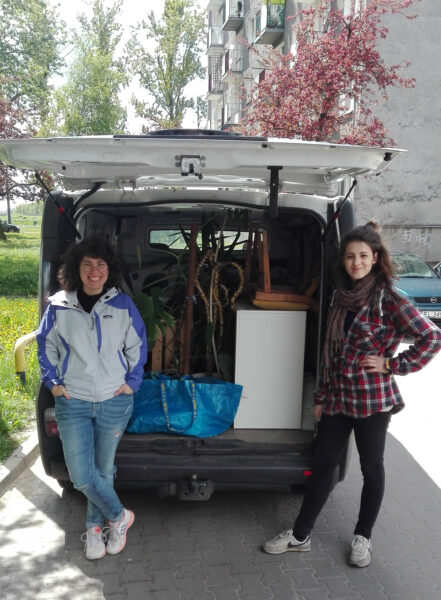 And suddenly a place called Art_Incubator appeared! Not literally, because it existed earlier but in the beginning of 2017 they've started to look for new residents. Art_Incubator is institution in Łódź city – a place for small creative businesses. You can rent a cheap and nice studio in the city center and you work surrounded by other creative minds. We were on our last year at the University when we heard about the Art._Incubator's recruitment. We thought "now or never" and applied to the competition. We've prepared a businessplan: the main idea was to design and weave kilims and wall hangings. And I think you can guess that we won the competition! The decision couldn't be undone and on the 5th may 2017 we've started to run our own business. We've moved with all the weaving stuff from our houses to the new and beautiful studio.
In the first months we were working really hard. We still needed to write our thesis and graduate and we did it few months later. Wiktoria got married and I went to the internship to Sweden. A year later I graduated also from the Academy of Fine Arts in Łódź. We still try to figure out how all those things happend in this short period of time.  We had a lot of help from our family, friends and our clients, The begining was really hard and quite crazy but we did it and we don't regret a single decision.
Probably you know how the story continues, because we share all of good and bad news on the Instagram and Facebook. S olet me give you just a shortcut: a lot of weaving and all the your-own-business-related-work, a lot of happiness and meeting new people, a numer of articles in the newspapers and a real friendship with Łódź Design Festival organisers. Few trips abroad and a lot of fairs in Poland, dozens of weaving classes, hundrets kilograms of wool and a lot of new kilims at your houses! And we need to mention Nów. New Craft assocciation which is one of the best things that happened to us recently. We've foundet it together with other Polish talented craftsmen and designers.
And we hope that even more good things are waiting for us!
Jadzia